Get High-Quality Security cabin Direct From Manufacturers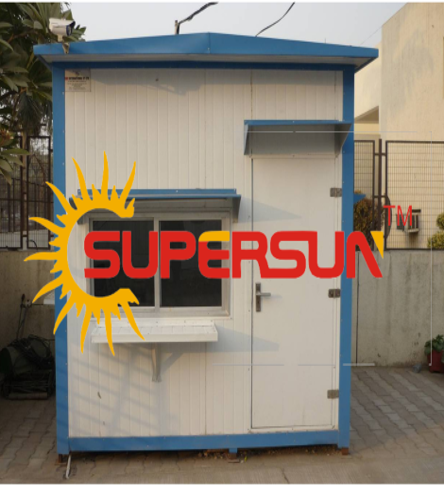 Of the relative multitude of top achievers in prefab market we have really acquired the validity of being one of the most confided in seller in this segment of the work. Supersun Prefab with an imaginative creation process and furthermore one of the most Panel assortment of premade structures and furthermore items has really been the critical power that has energized areas and furthermore business organizations and furthermore supported their conveyance abilities.
Supersun Prefab watchman room/security Cabin are one of quite possibly of the best top quality thing that are being made and furthermore gave for the most part all around the country. These particular gatekeeper hovels are given in prefab construction safeguarded boards of PUF/EPS.
These watchman hovels fabricated by Supersun Prefab, the top security staff region producers are used to give one of the best and furthermore safe offices for the safety officers to remain and watch out for the guest's and people entering the premises of assembling office building, storage facility, business complex, workplaces, foundations and different other such places.
Security Cabin Features
With tailor made plans and aspects done by prerequisites, the compact security lodges offer the accompanying useful highlights:
Enduring and sturdy design
Adaptability in sizes
Pre-assembled security lodges are thermally protected
Re-locatable and expandable
Quick Secluded development
Best material quality
Tasteful and Visuals
Secluded watch houses are effectively reasonable and agreeable because of intensity protection
Industry
Prefabricated modular security cabins are deployed for guard housing at following facilities to name a few:
Factory buildings
Warehouses
Commercial complexes
Offices
Educational institutions
Manufacturing plants
Benefits from Supersun Prefab
Tough development and solid construction
All climate application
Waterproof
Erosion safe
Thermally protected and flame resistant
Versatile safety officer lodges are not difficult to destroy and modify
These gatekeeper houses are useful, an incentive for cash structures